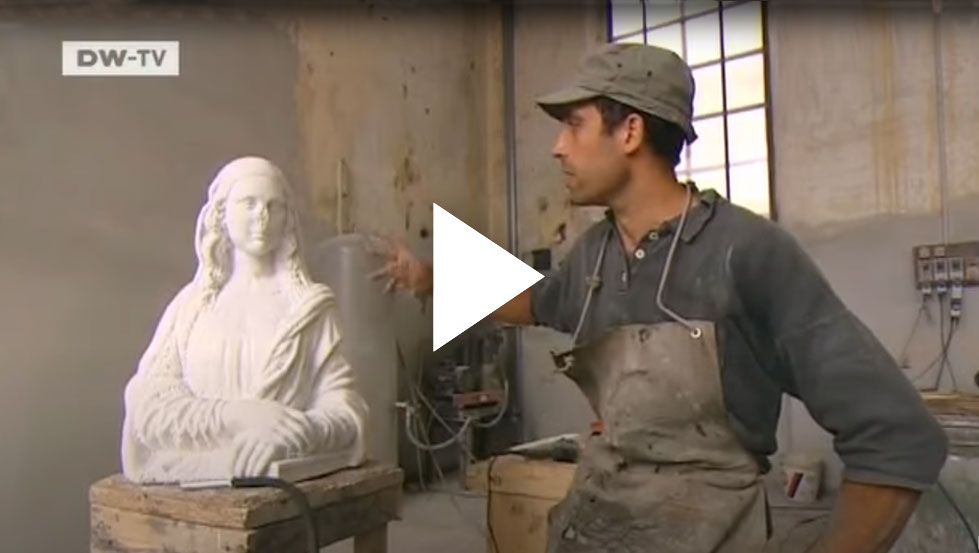 "The World of Marble" - Interview with Fabio Viale (© Deutsche Welle, with kind permission of DW)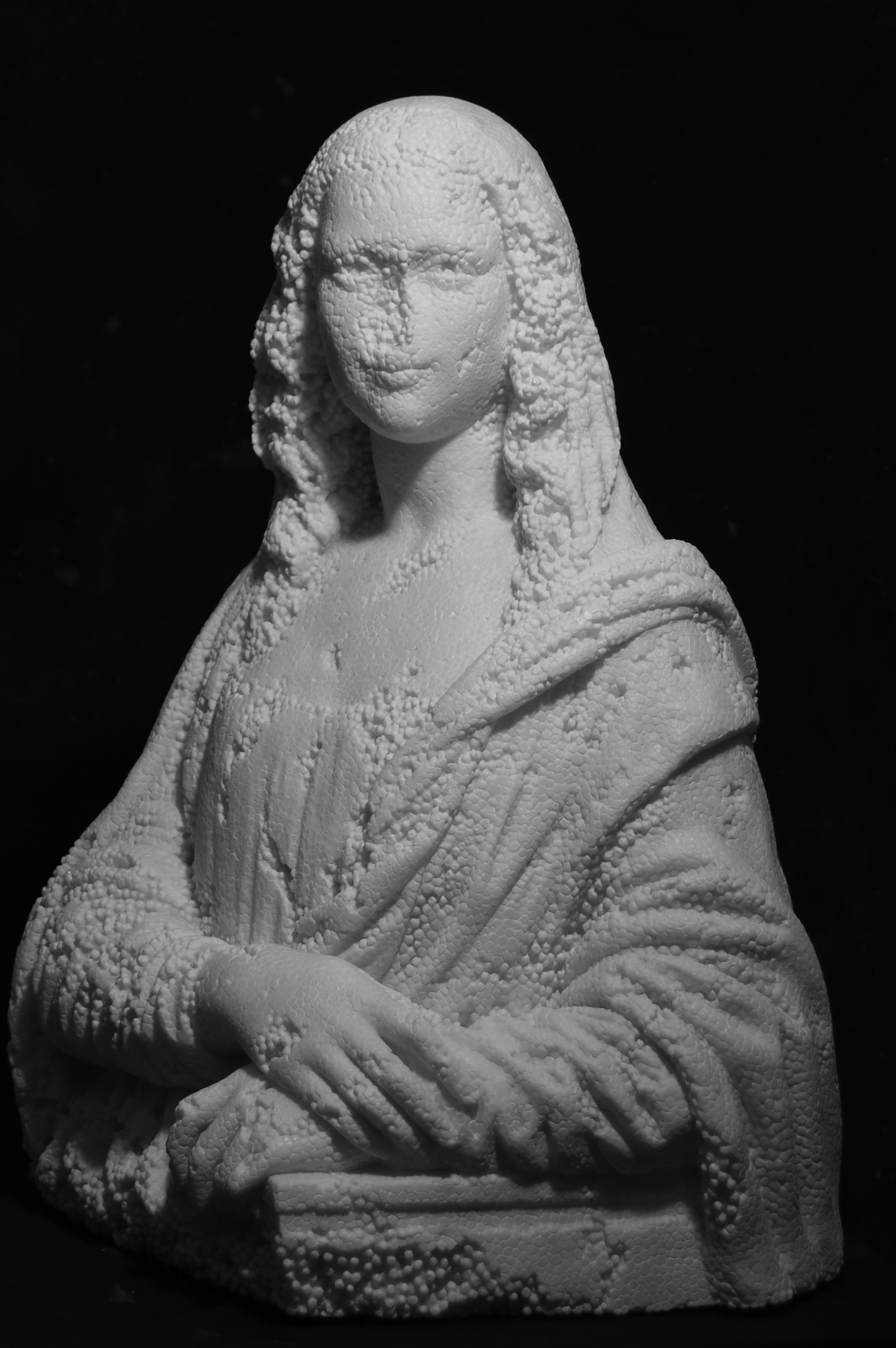 The great Renaissance artist Michelangelo believed that a work of art already "lives" in a block of marble. So to reveal the sculpture, all one had to do was remove the excess. While still in art school, Piedmontese sculptor Fabio Viale embraced this vision. "I realised that, unlike my classmates, I had a special gift.  I could see how the form emerges from the block of marble, and that's something you can't learn," the artist says.
This gift was the driving force that led him to refine his sculptural technique at the Academy of Fine Arts and then in Carrara, the "home" of the precious stone. During his training, he experimented with different shapes, volumes and images. This process eventually led him to explore the very essence of this art, as one of his most famous and symbolic works "Souvenir Gioconda" (or "Mona Lisa Souvenir") clearly demonstrates. "I wanted to turn this famous painting by Leonardo da Vinci into a sculpture," explains Viale, "so I started working on a 3D model. Despite my best efforts to make it as realistic as possible, there was always something missing. I couldn't create the slightly blurred effect of the Mona Lisa's facial contour. When I finished the marble work, I decided to hit her on the nose with a hammer because I just couldn't stand the sight of it any more. Paradoxically, this proved to be a liberating action. Without her nose, the Mona Lisa looked more realistic."
But that wasn't all: beyond this instinctive, cathartic act, Viale had to find a texture that would make the work "gritty" and thus create the blurred look. "I found the solution in a Styropor® effect, which was a real metamorphosis," he explains. "This technique blurred the object and transformed it into something else, something unique that was also incredibly alluring." The effect thus became a kind of lure, a deception that the artist used to captivate the viewer. The well-intentioned deception behind it is an extraordinary work. To create a 10-centimetre sculpture with this technique requires about an hour of intensive, precise work. The final effect is so realistic, Viale explains, "when you tell people that the sculpture is actually not made of Styropor® but of marble, they instinctively touch it to see if it's true. It's overwhelming because all the other senses say it's impossible."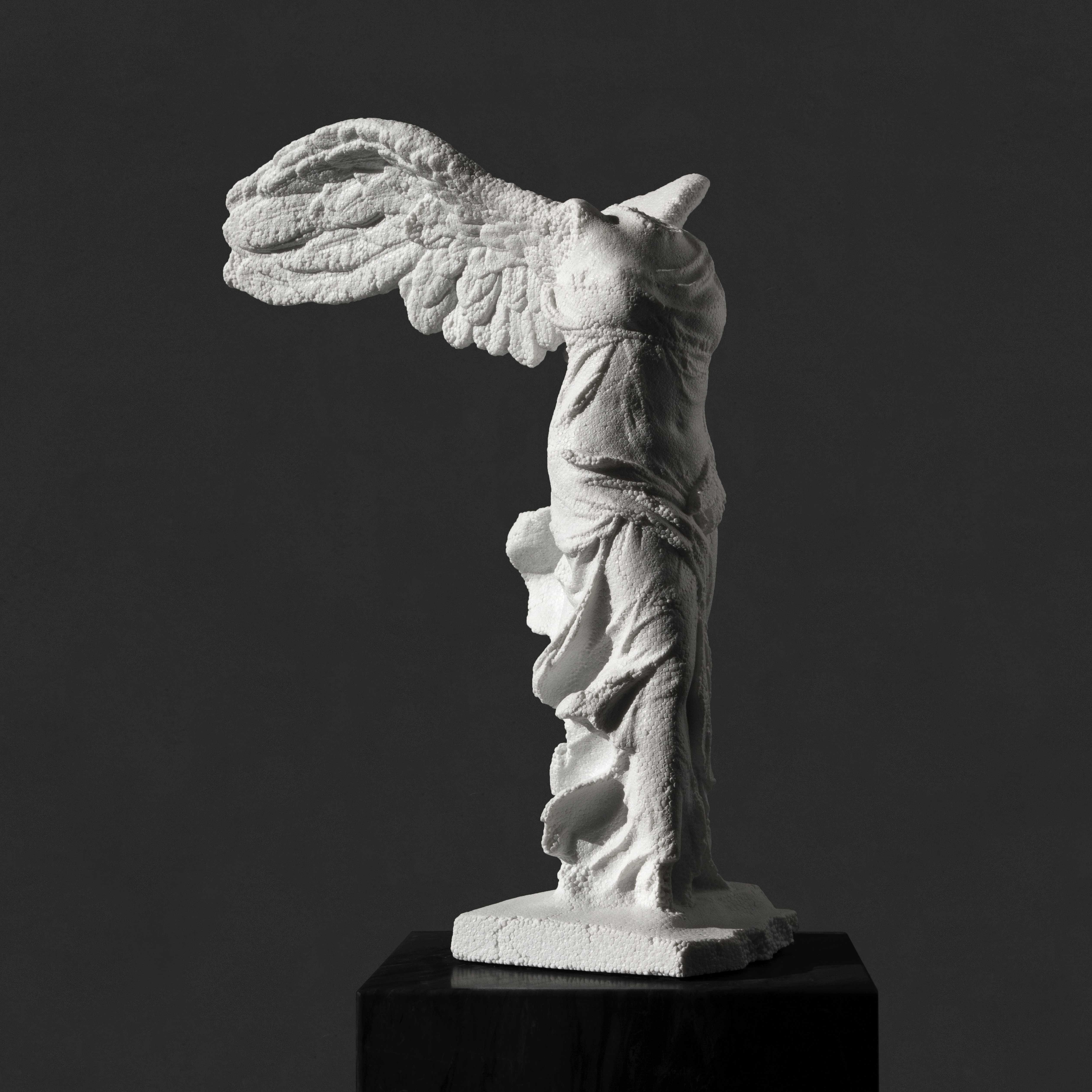 But what message is the artist trying to convey with this and all the other techniques he has used throughout his career - such as "tattooing" copies of classical statues? "In truth, I don't create sculptures to send messages," Viale answers. "My works have their own autonomy and I am more interested in what happens while I create them. I only have to have partial control over the work, because part of the sculpture has to develop on its own. I am interested in creating two opposing worlds that interact and release energy. In my work I am looking for such a tension."
This tension is crucial for Viale to create iconic, highly evocative sculptures. Does he ever get stuck on one of his works? "No, not at all! Because if I got attached to one work and kept it for myself, I wouldn't be able to create any more. So when I see them leave my studio, I'm always happy and think to myself that my next sculpture will be even better."